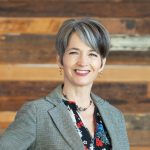 Emily Austin
Broker, SRES
A little about me
To understand me it helps to know a bit about my history. I am the last of 8 children. My Mother was 7 months pregnant with me when my father died suddenly. To say this was a shock to our family is an understatement. Somehow with faith, hard work and grit, we managed to get through the experience and are a tight knit family to this day. My Mother lived to be 100 years old. Her work ethic and dedication to her children left an indelible impression on me.
I worked for many years in the professional beauty industry as a hair stylist. I owned and operated a small hair salon and learned on-the-fly how to succeed in business. I had a passion mentoring new stylists and taught in-salon classes for Paul Mitchell Systems all around my home state of Ohio. It was years later that I realized my commitment to continual improvement and desire to be the best in my field would serve me well, no matter what career path I was on. After 30 years of mastering my craft, I was ready to try something new, and started into my career as residential realtor. I've never looked back.
I have always loved people. Many of my earliest memories are of being drawn to the company of senior citizens. Maybe that stems from never having any living Grandparents growing up. I knew being Senior Real Estate Specialist was going to be a big part of my real estate career. I knew that I had the patience, knowledge, and firsthand experience to help guide a senior through letting go of a lifetime of memories when selling their homes. I have built a team of referral partners in the senior industry to assist our clients with any need that arises.
I'm no stranger to home ownership, having purchased several homes during my lifetime. I remember the broker on my first purchase being instrumental in guiding me through the complicated process. Having sold a home of my own during in 2010, I understand the nuances and frustrations of a down market.
In 2011 I relocated to Seattle to take a chance on love, and I am still here today (and so is the love). I retired from cutting hair several years ago and have now been selling homes since 2016. Life led me here, and it is Burien WA that I now call home with my partner in life and in business, Eric Martin. We truly enjoy working together, in a complementary fashion, to help people navigate the many twists and turns of buying or selling real estate.
Let us guide you home